Multiple Teeth Replacement With Implants

Placentia, CA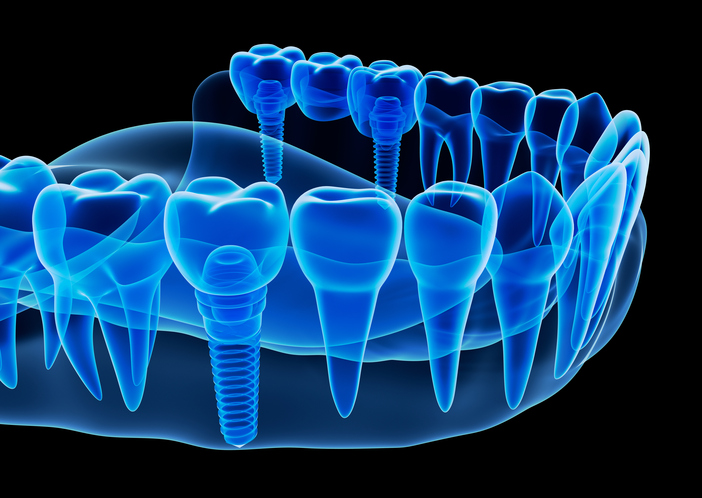 At Placentia Oral Surgery, our dentists have the training and expertise you need to maintain the highest standard of dental care. Tooth loss is an issue we often see with our patients and, whether the cause is injury or old age, we are prepared to help you replace them. Using Dental Implants, we can take these gaps or spaces where teeth used to be and insert artificial teeth in their stead. When it comes to multiple spaces near to each other, we suggest the use of implant-supported bridges so that we can efficiently give you replacement teeth with the minimal amount of implants.


What Is A Dental Implant?

Your replacement teeth need a solid surface or platform to stand upon if they are going to stay in your mouth without moving. A dental implant is a titanium post that we place in your gum line and jawbone to enable such a snug fit. Our first step is to use a small drill to create a space in your jawbone that will then make room and fit around the dental implant. Once completed, we can then place your artificial tooth or teeth comfortably atop the titanium post. These teeth will look as similar as possible to your other natural teeth, so this is a great way to preserve the aesthetic appeal of your smile.


Replacing Multiple Teeth With An Implant-Supported Bridge

When you need multiple teeth replaced in your mouth, we often will recommend the use of an implant-supported bridge. One advantage of this is that, unlike a regular dental bridge, implant-supported bridges derive their support from the implants and not from nearby natural teeth. This reduces the amount of wear and tear on your remaining natural teeth.

We also encourage this option if you have habits like clenching or grinding your teeth that would put a lot of pressure on individual implants. We want to avoid anything that could cause your dental implants to loosen from the bone and fail. By choosing an implant-supported bridge, we can spread the pressure from individual implants across the entire bridge instead.


How To Properly Maintain Your Implant-Supported Bridge

Once you have chosen to move forward with the implant-supported bridge and we have installed it in your mouth, the next step is to maintain it so that it continues to do its job for years down the road. By keeping your implant-supported bridge free of destructive plaque and bacteria, you lessen the likelihood of infection in the tissues that can cause implant failure.

Make sure to maintain a good dental hygiene routine by cleaning twice a day with a soft-bristle toothbrush while using a low-abrasive toothpaste. Because a bridge can make it difficult to reach certain spots in your mouth, we recommend the use of an interdental brush to clean those hard-to-reach places.

If you think that multiple tooth replacement with a dental implant might be the right choice for you and you would like to learn more, call us today at (657) 216-1617.