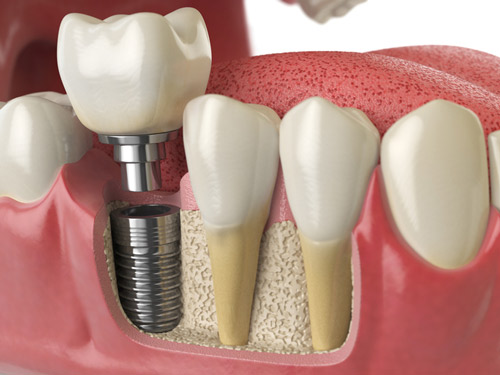 At Placentia Oral Surgery, our dentists are prepared to give you the highest quality service, information, and support when it comes to your oral health. When it comes to tooth gaps in your mouth, we can provide you the expertise and tools needed to restore your smile. To do this, we recommend the use of dental implants, which help us to safely mount dentures, bridges, or entirely new teeth wherever you may need them.


How A Dental Implant Works

When we refer to dental implants, what we are talking about is a titanium post that can function much like one of your tooth roots.

During oral surgery, we can insert one of these posts right into your jawbone and beneath your gum line. This permits us to attach the implant to a solid surface and ensures that whatever we put on top of the post does not come loose or move unexpectedly.

While bridges can have negative effects on your dental health because of their anchoring effect on nearby teeth, dental implants give you all the needed support on their own with no additional problems. This means that your adjacent teeth will not have to be ground down in order to hold the new tooth or teeth in place.


Are Dental Implants Right For Me?
To ascertain whether you are a candidate for dental implants, the first step is for us to inspect your jawbone and gums to see if they are strong and healthy enough to support the titanium post. If your bone is too thin or soft, we may recommend a bone graft beforehand to make sure that the dental implant procedure can work. If your sinuses are too close to your jaw or if the bone height of your upper jaw is improper, we would encourage you to consider a preliminary sinus lift. That said, if your bones are strong, your jaw is correctly positioned, and your gums are healthy, then dental implants become an ideal choice when it comes to the gaps between your teeth and overall dental health.
What Does The Day Of Surgery Look Like?

Inserting a dental implant into your mouth and jawbone is a relatively painless and fast procedure. When your gum tissue and bone is in good shape, it can take only half an hour to complete the treatment.

The first thing our surgeon will do is take out a small core of bone from the target area so that we can affix an implant within the opening created. Because this opening is typically quite small, you will probably not require stitches. Once the treatment is over, ibuprofen or acetaminophen is usually sufficient to address any pain or soreness that remains.
How Do I Maintain and Care For My Dental Implants?



So long as you come in routinely for check-ups and maintain your oral hygiene, your dental implants will last for quite a long time. Sticking to a good flossing and brushing regimen maximizes the success and longevity of your dental implant. We recommend that you consider using interdental brushes that can help you reach and clean difficult areas next to your implant.

With tips like these on your side and by continuing to check in with us, your replacement teeth and dental implants will work effectively to retain your beautiful smile.

If you think that dental implants might be right for you, or you want to learn more about them, call us today at (657) 216-1617.