Sleep Apnea

Placentia, CA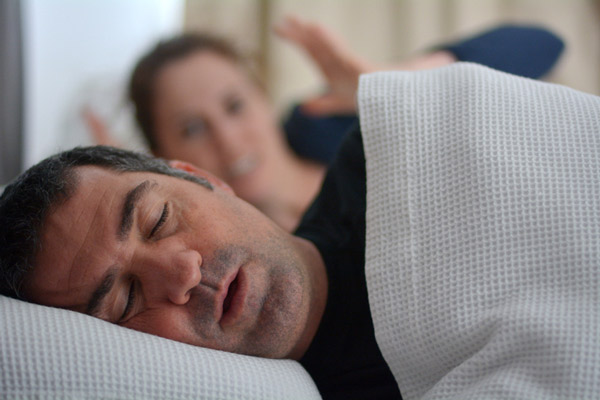 At Placentia Oral Surgery, we want our patients fully informed on any issue that might affect their dental health. If you have difficulty sleeping, then you may suffer from sleep apnea, which can have unexpectedly negative effects on your mouth. Many studies have shown that sleep apnea leads to weaker teeth and a drier mouth. If you think that sleep apnea is a disorder that you may be dealing with, we want to make absolutely sure that you come in for an appointment so that we can get you the best medical treatment for it.


What Is Sleep Apnea?

Sleep apnea is a disorder that causes you to stop breathing repeatedly as you sleep. These pauses can last for up to ten seconds or longer. Your sleep can get interrupted over and over, which can cause loud snoring, gasping, and sleep fragmentation. Sleep apnea also leads you to sleep with your mouth open more often than you would otherwise. This can lead directly to less saliva in your mouth than normal, which can be a cause of increased tooth decay and germs in the mouth, making you more likely to need a tooth extraction.


Further Effects Of Sleep Apnea

Because you receive less oxygen when you suffer from sleep apnea, the disorder can lead to episodic hypoxia, which can cause cellular damage to your brain. These changes have been observed in humans and laboratory animals who were seen to suffer from sleep apnea, accompanied by negative effects on memory and learning functions. Hypoxia also alters the properties of your mouth in a way that invites more plaque that can bind more easily to your cellular walls. This can cascade into further problems such as cardiovascular issues and atherosclerosis, so we recommend seeking treatment with us as soon as you notice that you may have sleep apnea.


There are many habits you can change at home in order to lessen the effects of sleep apnea. Exercising more and losing weight can have multiple beneficial effects and leave you with a greater chance of uninterrupted sleep. Steering clear of smoking is also wise, as smoking can cause your upper airway to swell, which can make your snoring and overall apnea situation much worse. If you sleep on your back, consider changing your sleep position so you can improve your breathing.


How We Treat Sleep Apnea

While oral surgery can be effective in treating snoring, it is often unable to address the complexity of sleep apnea. This is because it is difficult to reliably determine which part of your upper airway is causing the obstruction to your airflow. Consequently, we recommend oral appliance therapy, where you can use one of many appliances to assist you in sleeping without interference from your apnea. A breathing mask can fit snugly over your nose and supply pressurized air that will flow into your throat as necessary to help prevent your airway from collapsing. Patients who consistently use such devices reduce their sleep apnea episodes and feel much better than they did before.


How We Encourage Oral Appliance Therapy

We do not simply hand you an appliance and then wish you luck as you use it at home. We will develop a treatment plan with you that will have you come in routinely so that we can monitor your progress and maintain a proper jaw position as you use the device. We will want to see that your symptoms are actually being reduced, and we also want you to adapt to wearing it at night as comfortably as possible. We will review the details with you for maintaining the device and adjusting things as required to best suit your needs.

If you suffer from sleep apnea or need any assistance with your oral health, call us today at (657) 216-1617.