Partial Fixed Bridges (Non-Removable)

Placentia, CA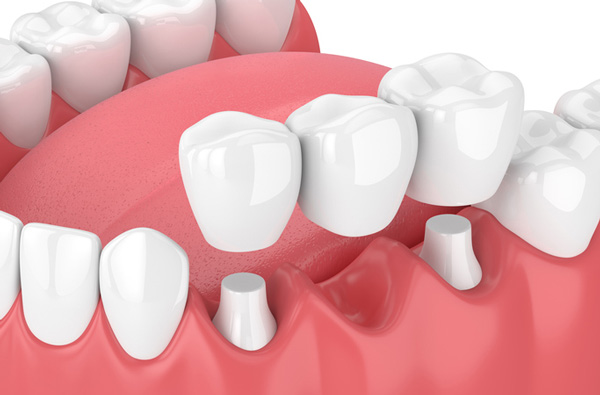 If you are missing several adjacent teeth or if several adjacent teeth need to be replaced, a partial fixed bridge may be your best option. Here at Placentia Oral Surgery, we used sophisticated procedures to make your dental replacements as natural-looking and functional as possible. If you need more than one tooth replaced, a partial fixed bridge may be right for you.


What Is a Partial Fixed Bridge?

A partial fixed bridge is a dental prosthetic that fits where teeth are missing or need to be replaced. As opposed to a single tooth replacement, a bridge is used where two or more adjacent teeth are missing.

In a traditional bridge, the neighboring teeth are often reshaped by filing so that they can be capped and used to support the bridge. Not only does this sacrifice the health of nearby teeth, but it can also place pressure on the supporting teeth and cause further issues down the line.

With a partial fixed bridge, an implant is placed where each of the missing teeth used to be. Then, connected prosthetic crowns are fixed to these implants. In this case, the support for the bridge is provided by the individual implants, which alleviates pressure on the surrounding teeth.


Why Might a Partial Fixed Bridge Be the Right Choice for You?

Missing teeth not only cause difficulty in chewing food, but also have a negative impact on the appearance of a smile. Many people with missing teeth tend to smile less to hide the gaps in their teeth. In addition to affecting the functionality of your mouth, the gaps where teeth are missing are prone to bacterial buildup and may cause further decay or infection.

The remaining teeth may also start to fill in the spatial gaps. When the surrounding teeth move, the alignment of your teeth may fall out of balance, causing issues with chewing and jaw alignment. This will require even more time and attention to fix.

To prevent further destruction of your oral health, your best option may be to install a partial fixed bridge. This will stop damage to neighboring teeth and restore your ability to chew and smile.


What Is the Process for Installing a Fixed Partial Bridge?

Before the procedure even begins, our team will scan your mouth with either an X-ray or a CT scan to determine the structure of your jaw and teeth. A prosthodontist will then create a prosthetic model that fits naturally in your mouth and will resemble your missing teeth.

The first step in installing a fixed partial bridge is placing titanium screws in the gap of each missing tooth. Titanium is used for its ability to properly fuse with bones. The screws are left to set in your jaw for up to a year so that they are properly anchored to your jaw.

Finally, the prosthetic is attached to these screws via a small rod called an abutment. The abutment properly secures the crowns to the implants and the procedure is complete.

Partial fixed bridges are one of the best options for replacing multiple missing teeth. If you need multiple adjacent teeth replaced, call Placentia Oral Surgery at (657) 216-1617 to set up a consultation. We will work with you every step of the way to make sure that your smile is as good as new.