The Implant Process in Placentia, CA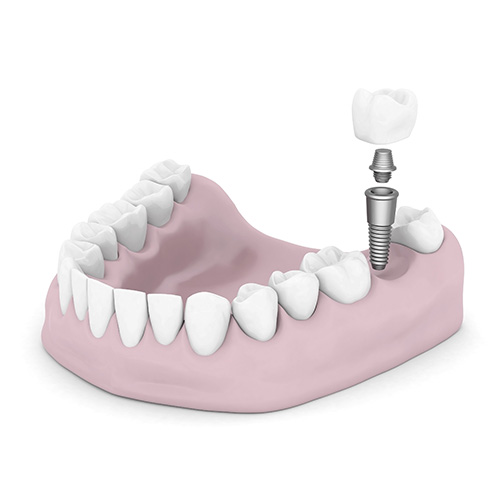 At Placentia Oral Surgery, we specialize in giving you any information and expertise that you might need when it comes to your dental health. As time goes on, you may experience damage or decay to your teeth that you did not plan for. Sometimes it gets so bad that you may need to consider tooth removal. When this occurs, you can have empty spaces in your mouth that you would like filled so that you can retain a great smile. Dental implants are one way we can insert replacement teeth safely and solidly into your mouth.


What Are Dental Implants?

Dental implants are titanium posts with artificial teeth on top. We install these into your gum line so that they can take advantage of the strength of your jawbone and not move around unexpectedly. After we remove a small piece of the bone, we insert the implant so that your jawbone can heal naturally and tightly around the implant area. We then proceed to put your replacement tooth atop this implant post. Once this is done, your artificial teeth will act and look just like real ones, making this an effective way to fill spaces in your mouth where your old teeth used to be.


The First Steps Of Dental Implants

Before we proceed to installing dental implants, it is important to determine whether the procedure is right for you. We will first do a thorough evaluation of your medical history and check for any medical conditions that would make the treatment a bad fit for you. Checking the health of your jawbone is an, part of this because the bone needs to be strong in order to hold the implants in place. Once this is completed, we will take X-rays and make models of your teeth so that our dental lab can fashion implants that will closely match your other natural teeth. We will then discuss sedation and anesthesia options with you so that you experience the treatment as safely and painlessly as possible.


What Happens During The Implant Surgery?

Once we have carefully sedated you on the day of your treatment, our first move will be to remove the damaged tooth or teeth that we aim to replace, if this has not been done already. If your jawbone is weaker than expected, we will help to create a strong platform for the dental implant through the use of bone grafting. Once this process is done and the jawbone is ready for it, we will insert the implant into your gum line. After your jaw heals from this, we will then put the abutment into the implant and place the artificial tooth on top of that in order to finish the dental implant surgery.


Post-Surgery Tips

The dental implant procedure can take a few days to recover from. You may experience some bleeding, soreness in the implant area, and some slight swelling of your face and gums. This is normal, but if any of these symptoms worsen in the days following your surgery, you should let us know so we can help you safely address them. You will want to stick to soft foods for a while as you heal. Make sure to continue brushing and flossing regularly as you did before the surgery and your dental implants will thank you by lasting for up to a decade or even longer.

If you think that dental implants might be right for you and you would like to learn more, call us today at (657) 216-1617.