Intravenous Sedation (IV)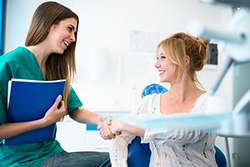 At Placentia Oral Surgery, we recognize that oral surgery can be an uncomfortable and sometimes frightening prospect to many of our patients. Your oral care and comfort are both highly important to us, and we want to do everything we can to make your treatment as efficient and painless as possible. Sedation can be an effective tool for helping to keep you relaxed during any procedure. Intravenous or IV, sedation can be an especially potent way for us to minimize any dental anxiety or pain that you may have.


What Is IV Sedation?

Unlike oral sedation where you swallow a pill hours before a procedure, IV sedation, also known as conscious sedation, occurs at our office right before your treatment. We administer it directly through a vein, which makes it very effective and fast-acting. Because of this direct method of application, it is easy for us to adjust the dose to match your needs. It also induces a significant period of amnesia, which means you will not remember anything that happened during your procedure. If you have a significant fear of oral surgery, this can be quite desirable and will make the treatment as low stress as possible for you.


How To Prepare For IV Sedation

While the use of IV sedation is easy, there are some preparations you should make beforehand to ensure that your body accepts the treatment without unnecessary complication. Because we do not want you to experience any nausea, we recommend that you not eat or drink anything for at least eight hours prior to your procedure. It will take some time for your body to recover from the effects of IV sedation, so you should consider taking the rest of the treatment day off to give you time to rest. Lastly, you should have someone else drive you to and from our office on the day of your surgery because of these effects.


What Will It Be Like When I Am Under IV Sedation?

Though you will not have any memory of what happened while you were under the effects of IV sedation, you will be awake during your procedure. Your awareness of what is going on will be minimal and your activity will slow. You will follow most basic commands from our dentist as needed. Outside of a very simple level of alertness, you will be able to breathe normally and won't need any additional monitoring. Because of these factors, our dentists find it easy to work with patients who are under IV sedation and you will be able to cooperate until your treatment is finished.


Is IV Sedation Right For Me?

Though IV sedation is a great solution if you routinely experience fear seeing a dentist or feel any sort of dental anxiety, it still may not be the right choice for you under certain circumstances. Older people and patients with other health conditions are more likely to experience negative effects from the sedation. We can get around this by giving you a smaller dose of the sedative, but this still may be a concern that may cause us to recommend against using IV sedation. We will look at your dental and overall medical history to get a better sense of whether IV sedation would be ideal for you, and we can always present alternative sedative options if need be.

If you think that the use of IV sedation might be right for you for an upcoming treatment and you would like to learn more, call us today at (657) 216-1617.